Game 3: I discover what it is like to be a sports fan, and it is a bit scary
Columbia vs. Army
Baker Field, New York City
October 25, 1947
I came home from playing outside on a sunny fall Saturday to find my mother in the kitchen screaming at the radio that sat atop the refrigerator, and I looked upon this spectacle with a mixture of fear and incomprehension. Excitedly, my mother explained that Columbia, my father's alma mater, was holding its own in a football game against the heavily favored Army team.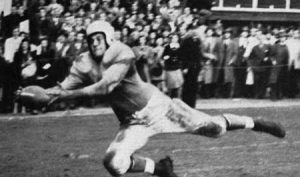 Army had not lost a game since the 1943 season, had gone 32 games without a loss—only two 0-0 ties with Notre Dame the previous year, and one against Illinois two weeks earlier, marring its record. Columbia was down 20-7, but rallied in the second half to score two touchdowns, and hold on for a 21-20 victory. I thought my mom was going insane during the winning touchdown drive, which, I would read years later, culminated with a remarkable 26-yard pass completion from Gene Rossides to Bill Swiacki at the Army three-yard line (Swiacki horizontal to the ground, arms fully extended, catching the ball just inches off the turf).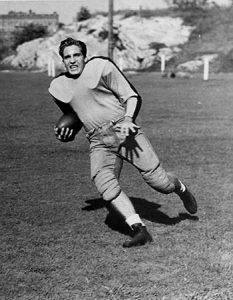 Lou Kusserow ran the ball in for the winning touchdown two plays later. Mom let out several whoops, began jumping up and down, and made herself a celebratory Manhattan on the rocks, my parents' drink of choice, at game's end. I was mystified, not really knowing about sports yet (that was a year away), but seeing my mother so happy made me think there was something going on I should know about.
In due course, I would learn about the legacy of coach Lou Little, the 1934 Rose Bowl victory, and Sid Luckman. But the '47 team was the last memorable season for Little and Columbia football. Only nine winning seasons for the Light Blue since then, the best years 1961, 1996 and 2017. Rooting for Columbia's football team, I came to understand, was a futile undertaking, a mostly perpetual disappointment, and sadly, I was too young to truly revel in its last moment of greatness. But on fall Saturday afternoons when I am watching a game on television, I still watch the scores scroll to see how Columbia did.