New York Yankees vs. Brooklyn Dodgers
Game 4, 1941 World Series
Ebbets Field, Brooklyn, NY
October 5, 1941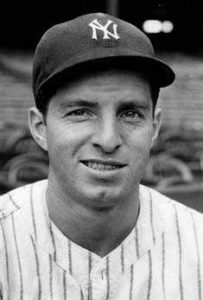 In the top of the ninth inning, the Dodgers held a 4-3 lead, there were two outs, and two strikes on the Yankees' last hope, Tommy Henrich ("Old Reliable," as Yankee announcer Mel Allen called him). Henrich swung and missed a Hugh Casey screwball for strike three, and seemingly the game was over, and the Dodgers had tied the series at two games apiece. But disaster struck. The pitch eluded catcher, Mickey Owen, and rolled to the screen, allowing Henrich to reach first base. Then, in succession, DiMaggio singled; Charlie Keller doubled; Bill Dickey walked, and Joe Gordon doubled, and the Yankees won, 7-4.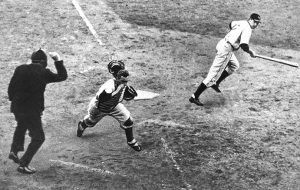 According to my mother, she, a rabid Yankee fan, upon listening to these events on the radio at home in New Rochelle NY, became so excited she went into labor. After an 18-mile drive to the hospital in my mother's hometown, and where three generations of her family had been born, and several dents pounded into the passenger side door of the family Studebaker coupe by mom when the labor pains hit, I made my arrival in the early morning hours of October 6th.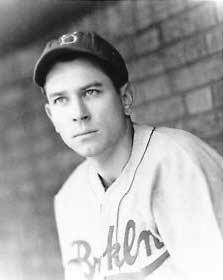 The next afternoon, on the hottest October 6th on record for New York, in my first hours of life, the Yankees beat the Dodgers to win the Series, the first of the seven memorable encounters between these cross-town rivals that would define my first years of baseball fandom, and my fate was sealed: I would be a Yankee fan.