Book Title:

Eleven Games

Subtitle: My Life As A Sports Fan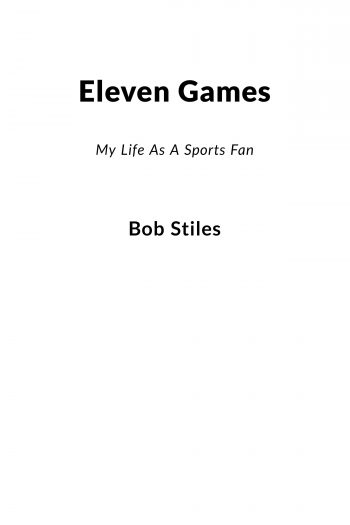 Book Description: My life as seen through the prism of sporting events and being a sports fan—the famous passed ball game of the 1941 Dodgers-Yankees World Series game; the New York football Giants game on Pearl Harbor Day; the Columbia U. football upset of Army in 1947; my first Yankees game and baseball in New York in the 50s; how the Bowman football cards of 1951 made me a football fan of the Green Bay Packers; the futility of being a New York Rangers fan and my admiration for Gump Worsley, and their finally winning a Stanley Cup; the moment of glory for the Columbia University basketball team; becoming a Mets fan and the miracle of the 1969 season; the New York Knicks first championship season; the apostasy of becoming a Baltimore Orioles fan in the late 70s, and the apotheosis of my fandom, the Giants first Super Bowl victory.
License:
All Rights Reserved
Book Information
License
Eleven Games Copyright © 2021 by Bob Stiles. All Rights Reserved.
Subject
Ball sports / ball games